Fortnite fans are very curious about their avatars in the game. Fortnite lovers curiously want to know what the top 10 best Fortnite skins are. In this article we will tell you everything about the top 10 best skins for Fortnite. What are the top five rarest skins in Fortnite? Don't worry, after reading this article, you will be fully aware of the top 10 Fortnite skins.
Each patch for Fortnite adds new skins to the game. Even though there are a lot of skins in the battle royale, only a few of them are the most popular. It's hard to say for sure what makes a skin good or great, but the Fortnite community agrees that some skins are better than others. We selected the skin on the basis of community votes on below skins that this are the top 10 best skins of the most of the Fortnite lovers.
TOP 10 FORTNITE SKINS 2022:
Lets start to explore more about the top 10 best skin of Fortnite. You can see the list below.
1). Spider-Man: No Way Home.
The third chapter of Fortnite came out at the same time as the latest Spider-Man movie, Spider-Man: No Way Home.
Before the movie No Way Home came out in theatres, you could play as the superhero in Fortnite. There are a few different versions of the skin in the game, but the one with Tom Holland in the latest costume was the most popular.
Spider-Man Web-Shooters, which are a Mythic weapon, can also be found on the map during Chapter Three, season one. You can use the Web-Shooters with any other skin in the game, but it will feel very different to swing around in a costume.
2). Rick Sanchez.
From the outside, Rick and Morty can look silly. Even though the writers and characters get to have fun in each episode, some people think that the main plot of the show makes it one of the most exciting animated shows in recent years.
Rick and Morty often go to different worlds and dimensions, so it was only a matter of time before they showed up in the world of Fortnite in 2021. In Fortnite, Rick Sanchez's costume is Rick C-137, and the art on the skin makes it look like he came straight from the show.
With the Rick Sanchez skin, his glider is the famous cruiser ship, and his harvesting tool is Hammerhead Morty.
3). Eddie Brock and Venom.
Spider-Man may have just started playing Fortnite, but one of his biggest enemies, Venom, has been there for a while.
The first Venom skin came out in 2020, but Eddie Brock, the person to whom the symbiote attached and turned him into Venom, didn't come out until 2021. With the release of Eddie Brock, Venom is now shown both as a good guy and as a bad guy.
If you already have the Spider-Man suit, getting Venom can let you dip your toes into the dark every now and then and remind you of the third movie in the Spider-Man series.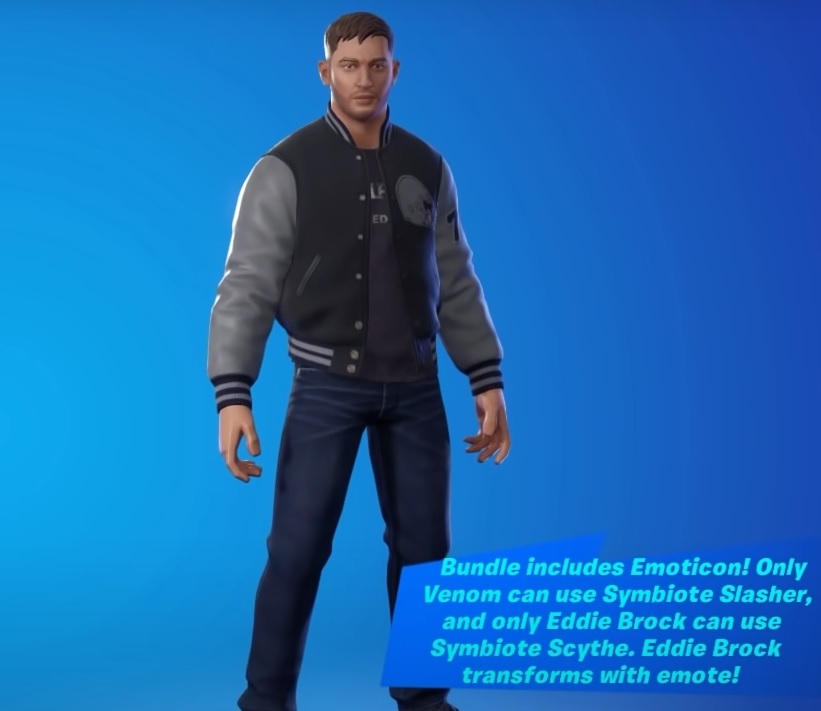 4). Ariana Grande.
Epic doesn't just work with people who make comic books. The number of artists who appear in Fortnite has grown over time, and most of the big names come with banger concerts. Players who want to remember the events can also unlock playable skins of their favourite artists, and Ariana Grande's skin could be one of the best-looking singer skins in Fortnite.
Marshmello and Travis Scott can't even compare to how detailed Ariana Grande's skin is. It also feels like a "sweat skin," which means players may see this skin more in tournaments or high-level ranked matches.
5). Ryu.
There's a chance that some people don't know about Street Fighter, but it's a legendary series that most veteran gamers grew up with, and even younger players may have played more recent games in the series.
All of the Street Fighter characters had important backstories, but Ryu is the most well-known. Ryu comes with only a back bling in Fortnite, but players can unlock a second style for him.
6). Chun-Li
Chun-Li Fortnite skin is favorite skin of girls. There are more Street Fighter skins than just Ryu. He was made available at the same time as Chun-Li, who is also a well-known character from the game.
Chun-Li has a back bling that looks like an arcade machine, just like Ryu. Players can also get access to another skin.
Fans of Street Fighter can also buy a skin pack for the game that has Guile, Cammy, Ryu, Chun-Li, and V-Trigger Vector as gliders.
7). The Flash.
In Fortnite, it's true that the Marvel universe is better than DC. In 2021, there were more Marvel skins than DC skins, which meant that DC had to go big.
There are a few franchise names in DC, like there are in Marvel, and Flash is one of them. The Flash on this skin looks more like the one from the TV show than the one from the movies, and he comes with more cosmetics.
The Flash's outfit in Fortnite is made up of lightning rod-shaped harvesting tools and a back bling. To use the speed force, you can always use the Quick Bite emote.
8). The Foundation.
The end of the second chapter of Fortnite was marked by an epic event. Players not only got to see the end of a thrilling storyline, but they also ran into some familiar faces, like The Foundation.
The Foundation, played by The Rock, is back for the third chapter of Fortnite, and it looks like he'll be a big part of the new adventures players go on. The base version of this skin comes with a mask. By completing challenges, players can unlock a version without the mask that shows The Rock.
9). LeBron James.
Basketball has always been a popular sport in the U.S., but the movie Space Jam helped more young people get interested in it at the end of the 1990s. Now that the first Space Jam is old news, it was time for a sequel, and who better than LeBron James to play the lead?
With the movie out in theatres all over the world, James also made his way into Fortnite with the King James set. The skin set has two looks for LeBron James, one with a jersey and one with regular clothes. Fans of Space Jam and basketball will want to add this skin to their collection, and the next time it's in the shop, it might be a good idea to get it.
10). Arcane Jinx.
Arcane by Riot Games was a huge hit with fans right away, and it also reached a huge number of people on Netflix. As soon as the show came out on Netflix, Riot announced that it would work with other games to help promote Arcane.
Arcane was almost everywhere, from PUBG Mobile to Fortnite. The deal gave Fortnite a great Arcane Jinx skin with a Dream Monkey back bling and a Pow Pow Crusher Harvesting Tool. Jinx also has her own music, so fans can listen to Arcane again in Fortnite.
We created the list of top 10 best Fortnite skins on the basis of vote of Fortnite lovers. You may like another skins but you should also try this skins. Comment below to tell us about your favorite skins. Fortnite top 10 best skins are so cool and Fortnite always update their avatars and skins. But till now this skins are top 10 best skins of Fortnite.